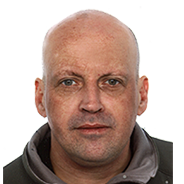 I like to create things, at a technical level (programming) and at a visual level. Apart from my commercial work I enjoy working on my personal projects, which are, most of the time, a combination of technique and artistic expression.
My interests cover a wide range of topics, including programming, the black art behind computer graphics, math, science, painting, drawing, art, mysteries, strange theories, to name a few.

Arjan Westerdiep is probably the modern Escher of the internet. What this man does with all kinds of code just blows your mind.
His portfolio site drububu is filled with all kinds of crazy experiments. And he's from the netherlands! Rock on Arjan!



Eyeballsex.com
Anime
Die Gestalten Verlag, Berlin,
ISBN 3-931126-72-2
Xfuns creative & design magazine no. 4
Holdland Industrial Co., Ltd, Taiwan
ISSN 1683-1578
Webdesign index 3
Agile Rabbit Editions c/o The Pepin Press BV, Amsterdam
ISBN 90-5768-045-9
Pixelworld: A new art form is born
Francis Lam
IDNPRO, Japan
ISBN: 988-97065-3-9
Score Magazine no15
'arjan westerdiep drububu.com'
July 2003, France
Mass Appeal ISSUE 37
'play at your own risk'
January 2006, United States
DÉCOUVERTE
'Des images incomparables'
artwork
September/October 2019, France
DÉCOUVERTE
'Du scanner au visage en trois dimensions'
artwork
January/February 2019, France
'Weekly Nerd' (Lecture)
Communication and Multimedia Design (CMD)
Februari 2016
Amsterdam, the Netherlands

Lecture 'Flash & Javascript'
Fronteers
December 2009
Groningen, the Netherlands

Lecture 'Pixel Art'
qlub A (antropomorf)
Platform GRAS & NP3,
December 2003
Groningen, the Netherlands
Lecture 'Pixel art'
Flashtival
September 2004
Rotterdam, the Netherlands
Lecture '3D Technologies'
Exposure 2005
June 2005,
Leeuwarden, the Netherlands
Lecture 'Voxels 3d-technologieën'
Multi-mania,
June 2005
Kortrijk, Belgium
Lecture ICKD IV
February 2008
Delft, the Netherlands
Lecture 'Flash & 3D'
Fronteers,
December 2008,
Paterswolde, the Netherlands
General Presentation
Media CT
February 2010
Groningen, the Netherlands