True Colors / Indexed Colors
When you are ready to put your pixel art illustration on the Internet, you have to choose a file format in which to save your work.
In general, you have two types of images in computer graphics: raster graphics, commonly known as bitmap images/bitmap graphics, and vector graphics. Vector graphics use mathematical descriptions of curves.
Pixel art is built on pixels, so you have to use bitmap graphics.
To save your pixel art, you can choose various kinds of file types, such as GIF, PNG, or some other file format that is lossless.
| File Format | Number of Colors | Lossless |
| --- | --- | --- |
| PNG | unlimited | |
| JPG | unlimited | |
| GIF | 256 | |
File formats like JPG will compress your image by removing small details. The size in kilobytes is reduced by the compression, allowing you to store more images on your hard disk and/or send them more quickly over the Internet. By removing small details, your original image will also lose details. The amount of details that is lost depends on the amount of compression.
The loss of quality makes JPG not a good option in which to save your pixel art illustrations.
Instead of JPG use a file format like GIF or PNG if you want to show your work on the Internet.
Bitmap images can be divided into so-called indexed color (bitmap) images and so-called true color (bitmap) images.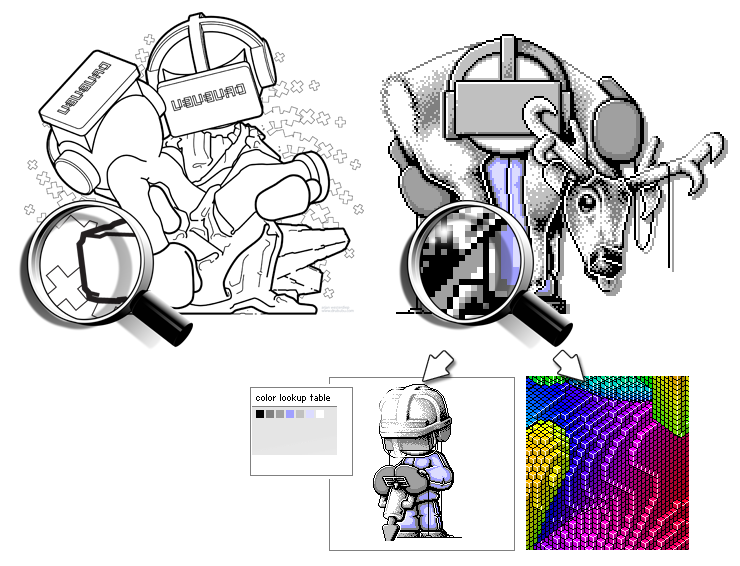 Indexed color image with color table and true color image
The decision to use indexed color images or true color images depends on the amount of colors you want to use.